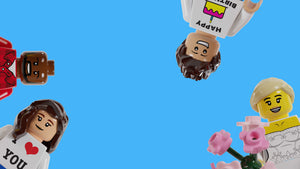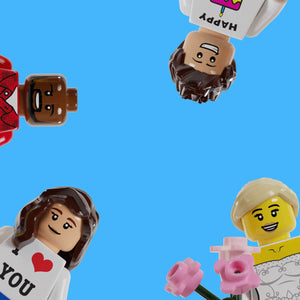 What Will You Build?
Hundreds of different designs and parts to choose from to make the perfect character.
There are hundreds of different designs and parts to choose from to make THE perfect character.
We can make your friends, family or just about anybody into a personalised LEGO figure!
Perfect for special occasions such as birthdays, weddings, Christmas and more.

Byronbricks was started to give people the opportunity to build their favourite LEGO characters that they could not get in off the shelf sets.
You can customise your character to make the perfect figure by changing aspects like the face, body, legs and more!

All you need to do is think about the person you would like to create; their hair colour and style, the outfit they wear that characterises them best, what are their defining features, is their Minifig for a special occasion and what message would you like to send them?

Once you have all this in mind, head to our Create Your Own Minifig page, enter your requirements, and we will do the rest!
Get in touch if you want ten or more figures for a special event, meet-up or for your own collection.

We've been fortunate to work with some great companies and charities in the past - no job is too big or too small!
If you want to order ten or more personalised LEGO figures you can apply discounts at the checkout to save money on your order.